Bahamas Yacht Charters by Sneed Charters
Sneed Yacht Charters.

(800) 581-7130 / (561)459-5316



UNWAVERING SAMPLE MENU
BREAKFAST


served with fresh fruit, breads & pastries
Lobster Eggs Benedict
lobster, spinach, English muffin, hollandaise sauce
Painkiller French Toast
Caribbean coconut rum Cream, grilled Pineapple, candied bacon
Huevos Rancheros
flour tortilla, fried egg, chorizo, avocado, black beans, huevos sauce
Mango & Coconut Pancakes
pancakes, mango, toasted coconut, maple syrup, crispy bacon
Bagel Platter
toasted bagels, smoked salmon, crispy bacon, avocado, egg, cream cheese
LUNCH
Bang Bang Shrimp Tacos
shrimp, avocado, jalapeño, radish, cabbage, pineapple salsa, siracha mayo
Tuna with a Twist




ahi tuna, potatoes, egg, lettuce, spinach, tomato, onion, sun-dried tomato, capers





Jerk Chicken Burgers




chicken, bacon, cheese, grilled pineapple, brioche, lettuce, tomato, chutney
Greek Platter




fried halloumi, lemon & garlic chicken, hummus, tzatziki, greek salad, olives, flatbreads,
Salmon Poké
teriyaki Salmon, spicy edamame, avocado, pickled ginger, seaweed salad, mango, cucumber, sticky rice, cucumber, siracha mayo.
CANAPES & COCKTAILS
Curried Gratinated Mussels / Royal Mojito




Classic Charcuterie / Pear & Elderflower Gin Collins




Pork Gyoza / Mango & Coconut Daquiri




Seabass Ceviche / Kiwi Smash




Loaded Sweet Potato Chips / Aperol Spritz
DINNER
To begin
Giant Mozzarella Arancini




Steamed Asian Bao Bun




Feta and Herb Puff Pastry Tart




Tuna and Avocado Tartare tower




Seared Scallops with Black Pudding
The Main Event
Red Snapper




pea puree, asparagus, parmentier potatoes, beurre blanc, prosciutto crisp





Pork Tenderloin




Pancetta, Potato Dauphinoise, broccoli, mascarpone, sage





Rosie's Red Curry




Shrimp, cauliflower, mange tout, bok choi, coconut milk, coriander, peanut, jasmine rice
Fillet of Beef




Garlic shrimp, spinach, mushrooms, hassle back potatoes, cajun sauce
Mahi




Saffron Risotto, mango salsa, mango sauce, balsamic reduction
Something Sweet
Banana & Baileys Creme Brûlée




Passion Fruit Tart with Italian Meringue




Pina Colada Cheesecake




Panna Cotta with Tropical FruitsVegan Chocolate Mousse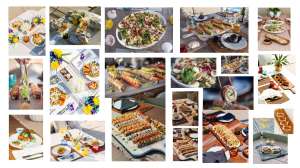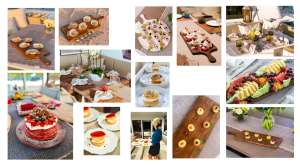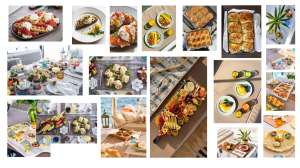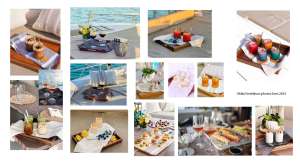 Sneed Yacht Charters.